Used Games Gear Sales are now closed. Gear Pick-up will be in Lot 18 at 4pm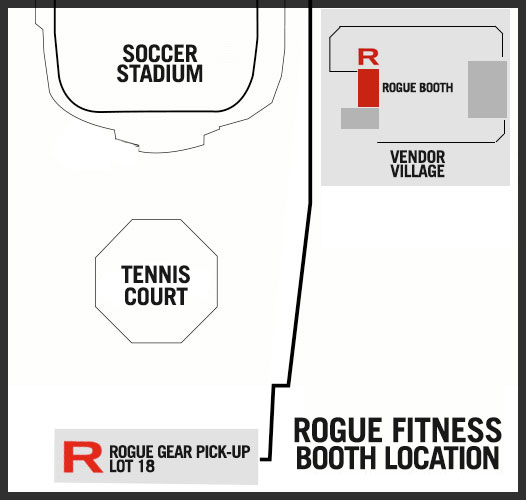 Where are the Rogue booths?
We have a booth in vendor village.
How do I order?
By visiting the Rogue 2013 Games Gear website. You can place your order via your smart phone, computer or you can stop by the Rogue booth and order on the Rogue kiosk.
When can I order?
After the first CrossFit Games event is announced. We will stop taking orders at 3pm Sunday July 28th. Gear will be added to the Rogue 2013 Games Gear website as it is used in events throughout the weekend.
Where do I pickup?
All orders must be picked up at Lot 18 upon the completion of the closing ceremonies. All orders are pickup only. No orders placed at the Games will be shipped.
What do I need to pick up my order?
You will need to bring your order number along with a valid drivers license. The name on the drivers license must match the name on the order. If you are having someone else pick your order up this must be noted in the comment section at the time of checkout.
If your order value exceeds $1,000 we may notify you via phone call or email to pick up at a later time.
What gear is available?
Anything and everything used at the 2013 CrossFit Games plus a lot more
What if I cannot pickup on Sunday?
If you cannot make it to the Games all unsold items will be available on the Closeout Page once all the gear is back at Rogue HQ. These items will be available for purchase with shipping to your address.